How to Start an Argumentative Essay for Any Topic
In essay writing, the toughest part is always starting it. Most students agree: when you get the introduction paragraph right, you become much more confident about writing the rest of the paper. And, when it comes to more specific academic papers, such as argumentative essays, nearly anyone can get his mind messed up with what words they should really start with. After all, the first few sentences of the text form the first overall impression of your entire work. 
In the previous article, we've already discussed the first step of writing an argumentative work and introduced some of the best argumentative essay topics to choose from. Here, we will review the structure of this specific type of academic paper and learn how to start an argumentative essay. 
Argumentative Essay Structure: A Detailed Overview
Once you've decided to learn how to write an argumentative essay, it's essential to start by reviewing the overall structure of this specific type of paper. 
Though there are multiple writing techniques for this essay, it's usually recommended to focus on the most common – the classical approach, especially if you're new to it. Classical structure works great for students who have only little practice in essay writing, as well as those who are completely new to this. 
An Introduction
One of the most important parts of any essay is aimed at presenting the core message of your paper, including the thesis statement. As a rule, it is presented in a single paragraph. The structure of any introduction starts with some general statements concerning your topic and, with every new sentence, narrows down to the key thesis of your paper. 
Let's take the following example as our essay topic: "Should we ease sugar consumption?"
In the introductory paragraph, we can draw a few general, topic-related sentences explaining why this subject is important. 
For instance, something like: "More and more people today start tracking their sugar consumption in order to maintain their health and well-being. That's no wonder since a large sugar consumption can cause multiple different diseases, including cancers, obesity, heart attacks, diabetes – and that's not the complete list. Tracking the sugar intake doesn't only mean counting how many teaspoons you put into your daily beverages – you should also mind the products that are high in sugar…." 
The Subject's Background
In this part, you can introduce the early studies of your main topic, stressing why it is important. As an example, you can talk about children who have been diagnosed with obesity and suffer from eating disorders caused by sugar. You can even mention the famous documentary "That Sugar Film" by Damon Gamo. Provide your readers with some food for thought, explaining why this topic matters and the aspects that have been researched within this scope. 
Main Arguments
If you googled ​​what is a argumentative essay, you surely know that it implies the use of specific arguments concerning the essay topic. In this part, we'll finally provide them! Usually, this means you'll clear out the main points of your position. 
For our example, this can include the addiction-related statements; you can also mention the psychological impact sugar makes on your brain and mood. Or else, you can drive the examples from life, such as when your brother refused to eat breakfast without sweets or got a cavity because of regularly eating cupcakes.  
Refutation
This section requires providing the opposite opinion you'll need to refute as being invalid. For example: "Some people tend to refuse the bad impact of sugar on their health, claiming that it's more about genetic predisposition, rather than sugar consumption. However, different researches have proven that regular sugar overdose can provide much more damage to various groups of organs than a genetic predisposition to cancer. 
Conclusion
In the final part, you'll need to make a strong conclusion for an argumentative essay by summarizing all the key arguments and providing solutions or studies that should be conducted in the future. In our example of writing an argumentative essay, we will be pointing out all the "against" statements, along with the general explanation of how people can reduce sugar consumption. 
How to Make an Impressive Argumentative Essay Introduction
Now that you've learned the structure of this type of essay and can better understand the main focus points required in each part. Here, we'll provide the best ideas for helping you to write an excellent argumentative essay introduction for your paper. 
So, how can you start the essay?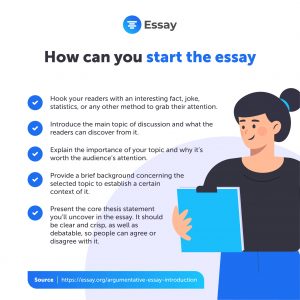 Now you can see that writing an introductory part for such challenging papers as argumentative essays is more than possible, even for the students who write it at first!
Wrapping Up
Once you've learned the argumentative essay structure, it becomes super easy to get it written in the most reasonable time. Moreover, a catching introduction part can greatly draw readers' attention, perfectly present the essay topic and narrow the intro words down to the more specific theses it's focused on. 
Nevertheless, if you still feel unconfident writing an argumentative essay or need professional assistance in preparing your perfect paper – the best essay writer is 24/7 here to help you! Our academic service offers first-class assistance in writing various types of academic papers on basically any topic. 
So, if you already have the assignment to complete – contact us today and get your work done for the most reasonable cost!