Good Argumentative Essay Topics: 30 Best Ideas
Unlike many other forms of essays, an argumentative essay is one in which writers try to convince their readers of something with the help of multiple examples, in-deep subject analyses, and case studies. To write an effective work within this scope, you'll need to build a solid essay structure, as well as a good argument, a strong thesis, and solid analysis.
Since that process needs considerable effort, powerful research, and brilliant writing skills, most students find it extremely difficult to write an argumentative essay. In most cases, they give up in the very first steps of writing, where you have to come up with the main topic for your paper.
For this reason, we have prepared an effective yet straightforward guide on choosing good argumentative essay topics that will help you to excel in academic writing easily. In addition, you'll find some examples of great essay subjects that will help you come up with the best topic for research.
Easy Argumentative Essay Topics To Try
When it comes to writing an argumentative essay, the first thing you'll probably start is brainstorming various ideas for your work. Of course, writing down different subject variants will help you to better understand the things you'd like to research and narrow those down to a handful of the best options to choose from.
What is more, there are some really good hacks that will help you to make the best choice! For instance, if you have a free choice of topics for argumentative essay, it's recommended to pick something you feel strongly about. By being interested and passionate about the topic selected, you'll need less effort and time to find evidence for support, which is essential for writing an argumentative essay.
Additionally, to make the right decision between multiple topics, you can also make a list of several points for each, covering different evidence you could use to support each subject. This way, you'll be able to finally pick up the one you feel most confident with.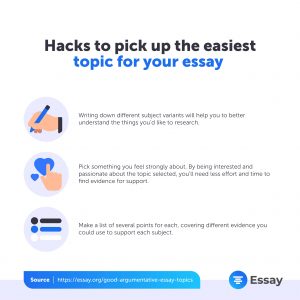 So, after you know how to pick up the easiest topic for your essay, it's time to review the list of potential topic examples that will help you effortlessly write an excellent paper. To give you some inspiration, we've listed a bunch of different argumentative subjects from various industries:
Is investing in space exploration really worth it?
Should religion impact the government?
Should we legalize marijuana?
Is remote schooling effective?
Celebrity culture: Is it good or harmful?/li>
Do schools adequately prepare learners for the real world?
Should we focus on dieting today?
Do GMO foods have a good or bad impact on our health?
Should we restrict abortions today?
Should torture be acceptable?
Is it fair to limit screen time for teenagers?
Should people help others in need?
Do we need to have homework in school?
Should a child have a choice to select school subjects?
Is dinner an important meal of the day?
Whatever subject you've decided to choose for your work, these easy argumentative essay topics will surely help you to write an essay in the shortest time.
Best Argumentative Essay Topics for College Students
While there's probably much more freedom in choosing the argumentative essay topics at school, in a college, you'll be asked to write a paper in the context of a specific subject. That is why our team has also prepared some of the most popular argumentative essay topics college students can consider, which you can always use for your work or else find some inspiration for your unique essay subject.
Society
Competition: Is it good or bad today?
Should parents restrict screen time for children?
Do people overlook the importance of sleep nowadays?
Is fashion really important at present?
Is there too much focus on diets in society?
Technology
Digital technologies: have they made our society better?
What are the drawbacks of the remote working model?
Have smartphones made our life better?
Should we control the users' private data collecting?
Will paper money be substituted by digital money?
Education
Should we still wear school uniforms?
Should students live separately from their parents?
Do smartphones affect students' learning progress?
Should the PE grades affect a student's academic performance?
Is sex education important today?
Economic
Should companies switch to a four-day workweek?
Should corporations provide paid parental leave?
Is the current tax system (in a certain country) fair?
Should minimum wage be revised?
Do CEOs earn too much money?
Sports
Should steroid users be banned from their sport forever?
Professional Athletes & Professional Coaches: Should they have equal wages?
Can women be allowed to play professional sports on men's teams?
Should college athletes be paid for representing their institution in sports contests?
Should sports be segregated by gender?
Environment
Is nuclear energy still important today?
Can electric vehicles substitute the traditional models of cars?
Has the frequency of natural disasters increased due to climate change?
Is it possible to adapt to climate changes?
Can recycling impact climate change?
As you can see, writing an argumentative essay is not as challenging as it seems at first. Once you've selected the right topic and created a catching argumentative essay introduction, we're more than sure you'll get inspired by what you're researching.
So, don't hesitate to give it a try, even with having little or no experience in that field!
Final Words
Now that you've learned some of the great topic examples, you can easily make arguments and know for sure how to choose the right one for your essay. However, if you face any difficulties in the process or simply want to get your paper written – you can always get professional assistance from an essay writer! With years of experience, our academic writing service has been helping millions of students across the globe to complete different types of assignments for nearly any subject.
Already have a task for us to deliver? Contact us right away and get it done in the most reasonable time!