How to Write a Conclusion for an Argumentative Essay
When you put all the effort into researching your topic and writing the introductory section and main body, there are literally zero ideas on what you should write in the conclusion paragraph. That is why in most cases, the conclusion for argumentative essay gets the least attention, making your readers confused about what they should do after reading an essay. 
Of course, when you might have learned the argumentative essay structure and know exactly how to start an argumentative essay, its final part may lack some value, thus, resulting in a bad grade. However, you're not alone: many students feel confused about writing an argumentative essay, no matter whether it's a conclusion or introductory paragraph. 
To help you better understand how to write a conclusion for an argumentative essay, we'll briefly review the basic information about this type of academic paper, as well as provide some valuable hacks on how to ideally get your work finished.
What Is an Argumentative Essay
Before we dive into writing an argumentative essay conclusion, it's essential to understand the peculiarities of this type of work. So, what is an argumentative essay in general? Basically, that's a type of essay that requires students to investigate a topic, collect, generate and evaluate evidence concerning the selected topic, and establish a certain position on the topic in a clear and concise manner.
The purpose of such a paper is to organize and present reasonable conclusions to persuade the audience to accept or at least consider your point of view. A conclusion is one of the most valuable parts of this type of essay, as it provides all the main arguments to support your opinion and leaves readers some food for thought concerning the target topic. 
Argumentative Essay Structure: Main to Know
The next step you should also keep in mind when writing an argumentative essay is the structure of your paper. Knowing the structure of your paper can help to logically build the content of your essay, ensuring you've covered each aspect it requires. 
There are multiple ways to approach this type of essay, so let's now analyze the most popular models you can rely on when writing an argumentative essay. 
According to the simplest essay model, an argumentative essay consists of 3 main parts: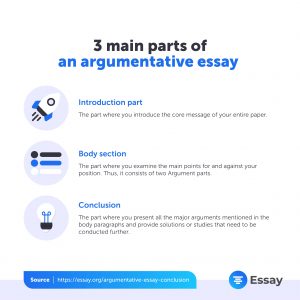 Another, more complex model of argumentative essay suggests adding the background of the target subject (often, that is still considered to be part of the introduction section). This paragraph provides a brief overview of the early studies and investigations of the target topic, thus helping to make a more smooth transition between the introduction and main section with arguments. Additionally, this section can provide an explanation of the importance of a selected topic and draw some examples of previous research cases. Commonly, it can be introduced in historical, economic, financial, social, political, philosophical, or other related scopes. 
How to End an Argumentative Essay
Once you've presented more general information in the introductory part and narrowed it down to more specific information in the body paragraphs, it's time to get your work finished with the right concluding part. But how to write your perfect argumentative essay conclusion that ideally fits your topic and encompasses the context of your research?
A conclusion should begin pulling back to more general information, covering the main points of your argument. In some cases, it's also possible to add a slight call to action to inspire your readers for further topic research. 
Below you'll find a bunch of great hacks on how to end an argumentative essay that will help you to make a brilliant, informative summary for your work. 
Reconsider the essay topic and explain its relevance

Restate your thesis or opinions provided in the body paragraphs

Briefly address the opposing viewpoints and summarize why readers should align your side.

If needed, add a powerful call to action to direct your readers to what they can also pay attention to or add some other thoughts concerning the research process. 
In addition to the guide on how to make your best conclusion, it's also worth reviewing the transition words useful for argument writing:
Finally / Thus / At the end of that discussion

In conclusion / To conclude

To summarize / To sum up / In sum / In summary

On the whole
Example: 
To conclude, this assignment has addressed a number of significant issues which show that … (mention the conclusions you have drawn). Thus, … (explain why readers should agree with your viewpoint).
These simple yet really effective tips can greatly help to make a strong summary for nearly any sort of essay, including the ones targeted on argument analysis. 
Wrapping Up
As you can see, writing an informative yet interesting concluding part of this type of essay is pretty easy, especially with the critical writing aspects, details, and insights stated above. We hope that this information helped you in the process of writing an argumentative essay and your article is finally ready to go!
However, if you still need some help reviewing your essay or want to get it written for you – feel free to write to us anytime! Any professional essay writer of our academic writing service is always here to provide first-class assistance in writing and reviewing any type of papers that are 100% original and ready for submission. 
Already have an assignment for our team? Don't wait, and get it done immediately!