How to Write a Narrative Essay: Outline, Structure, Tips
A narrative essay is one of the most common academic assignments. This paper allows you to tell a story about your personal life experiences. Unlike other assignments, it unleashes your writing creativity.
While this assignment is critical and interesting, failing to master how to write a narrative essay can cost you good grades. Therefore, this post seeks to empower you with tips on writing a narrative essay. It also answers crucial questions like "what is a narrative writing?" and "how long is a narrative essay?" Keep reading to learn more and polish your writing skills to stay ahead of the park.
What is a Narrative Essay
Let's start defining a narrative paper and answering the essential question, "what is a narrative essay?" Briefly, a narrative essay is a writing task that tells a story. Your main goal is to create a conducive environment and life-like experiences for your audience.
As a standard, you should write this paper in the first person and prioritize your readers to engage them. A great narrative assignment has and pays attention to the following qualities:
Characters (your story's actors) who shape its significance.
A central theme, which's its main idea or meaning.
A thesis statement that mentions your theme and summarizes it.
Non-fiction style of writing.
You write it from your viewpoint.
Story elements combined with a basic structure.
Chronological delivery of information.
Enough details to describe events, persons, or scenes.
Information to the readers of something without an argumentative or educational focus.
Vivid verbs and modifiers.
Use of dialogue
Purpose of a Narrative Essay
Writing a narrative essay has a single goal: to test your ability to tell clear and exciting stories. Your teachers expect you to use different techniques like dialogue, figurative speech, or suspense to fulfill your narrative essay purpose. Its sweetness isn't necessarily in the story but in how you tell it.
Narrative Essays Types
Narrative essays have two main forms, as discussed below.
Descriptive narrative essay‍. This genre is the most narrative task that describes experiences, situations, or memories using vivid details. Mainly, it focuses on showing, and not merely telling, a story by evoking readers' various senses and portraying events in detail.
Autobiographical‍ narrative essay. This narrative essay shares a true life story and focuses on one event. Unlike its descriptive sister, this one focuses primarily on a story and its goal, not the details.
Narrative Essay Topic Examples for College
Choosing a suitable narrative topic is essential to your success. But how do you select the best subject that will inspire your writing? Many college students still face topic selection challenges. Therefore, this section shows you how to choose an appropriate title and gives examples to inspire you. Remember, nothing teaches better than an excellent example embodying something's guiding principles.
Start your search by brainstorming potential topics you feel will give you an easy writing time. Narrow your options to at least two titles to ensure you have enough materials to narrate.
Additionally, determine if your preferred topic interests you enough to write about and inspire your writing. An exciting title makes you feel you are "enjoying your thing" instead of performing a heavy classwork duty.
Ensure that your intended story fits in your paper's limited word count. There's no point in selecting an exciting account that's too long to finish within your assignment's length. So, pay attention to these criteria when choosing a narrative assignment topic.
Now you know how to select your paper's topic. Our pro essay writing service team has carefully selected these examples to motivate your next narrative assignment.
How you felt on your first day in college.
How you overcame the fear of writing your first essay in college.
The worst moment in your life when everyone failed you, and you stood alone.
How you felt when a close friend betrayed you.
How you celebrated when you scored the highest grade in high school.
The most valuable achievement in your childhood life.
Your life's greatest moment of failure and the lessons you learned from it.
The greatest failure you fear in life.
Your life's most challenging moment and how you overcame it.
The most valuable decision that shaped your life's entire course.
The biggest relational conflict you had.
Narrative Essay Outline
A perfect narrative essay outline drives your paper's success. Unlike argument, business, or education assignments requiring you to research external sources, this essay doesn't need all that. However, you still need a narrative essay format to hold and direct your thoughts.
An excellent outline prevents challenges because you won't forget to include any necessary details. While you don't have an argument to advance, your structure holds your ideas logically. It also helps your readers read it easily and seamlessly. Further, your audience won't have a problem following your theme. Thus, mastering how to write a narrative essay outline benefits you and your target audience.
When outlining your narrative essay, identify where your story will start and end and how many crucial moments it needs. Remember to consider your story's pace and tone. Your essay should have an introduction that catches your readers' attention to make them want to read more. Its overall structure features the following components:
An introduction sharing your points and how they relate to you.
The first body paragraph setting up your story.
The second body paragraph briefly telling the story up to its climax.
The third body paragraph sharing how your story ends.
A conclusion restating your point and relating it to readers.
Narrative Essay Structure
You need a narrative essay structure to guide your writing. Just like a persuasive essay outline, an outline for a narrative essay brings order and prevents costly mistakes. This essay follows the traditional three-piece format featuring an introduction, a body, and a conclusion. This section shares instructions on how to structure a narrative essay and its elements.
There are important elements that distinguish a narrative essay from other essays. A narrative essay consists of three elements: character, theme, and dialogue. And even if the essay is autobiographical, pay attention. The person writing the essay is a character that involves some other characters who act, act and act like all the other characters featured in the stories and novels.
Dialogue is used to record conversations between characters. Also, in narrative writing, dialogue is the third important element, without which the characters lose their value and liveliness. In addition, a narrative essay is centred on a plot that is told in enough detail to reach a climax.
The following are some other important elements of a narrative essay: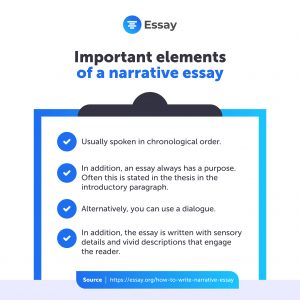 The narrative essay uses tools such as flashbacks, flash-forwards, and transitions. These tools often lead to a climax. In addition, the plot is at the center of the story. However, when creating a narrative, authors must define their purpose. In addition, they must consider their audience, establish their point of view, use dialogue, and organize the story. A narrative essay is usually arranged in chronological order.
Also, in a narrative essay, you are telling a story. And often, it comes down to personal experience. However, you also make your point. Thus, the goal is to tell an entertaining story and explain the importance of the experience.
How to Start a Narrative Essay?
Mastering how to start a narrative essay is critical to your paper's overall success because a false start can cost you marks. It can ruin your readers' general expectations by creating a negative first impression.
Several things influence your assignment's flying start. Start by adhering to your instructor's prompt. Understanding your prompt is necessary for all the other stages because it shows you what to do.
Unless your tutor provided a topic, brainstorm and choose an appropriate title. Your final topic depends on your assigned prompt, which can be specific or open-ended. The first prompt focuses on particular events or event series. The second one gives you unlimited leeway in choosing your title.
Introduction
Do you still want to master how to write an introduction for a narrative essay? Then carefully consider your story's introductory paragraph. This opening section is vital and accomplishes three main goals.
Engage your readers using a hook. You must create a powerful attention grabber to catch and detain your readers' attention. It can be a provoking question, a fascinating fact, a quote from a public figure your readers trust, humor, or an intriguing statement.
Set the scene and give your audience an idea of the events. This element should only whet your readers' appetite with a brief overview of what to expect.
Define your writing's purpose. This section must also define your story's goal and contain a primary idea or thesis that guides your narrative.
Strong Thesis Statement
A compelling thesis statement is one of the most vital narrative essay parts. You must place it at your intro's end and revisit it in your story's conclusion.
Your thesis gives a sneak preview of what you want to narrate. It shouldn't be a question, suggestion, fact, or general truth.
Narrative Essay Body Paragraph
A good structure of a narrative essay requires a body containing the evidence to explain and defend your main idea. Here, you tell the promised story and share all the facts and events with your audience.
This section has three paragraphs or more, depending on your assignment's length. Incorporate the following elements into your paragraphs:
Vivid and relevant details. Your narrative should create a scene and the mood to follow. Remember to fill your sentences with literary symbols because they are appropriate for this assignment.
Dialogue. Remember to throw your readers into a dialogue to refresh their attention. This technique is one of the best ways to liven your story and support its atmosphere. However, don't overuse it.
Chronological flow. Readers have difficulties understanding your event's timeline if you are blunt. Thus, keep your narrative sequential to make it organized.
Focus. Mind your voice when composing this assignment. If you are telling a story a friend told you, write it in the third person. If your narrative is a personal experience, do it in the first person.
Narrative Essay Conclusion
The conclusion is among the most critical parts of a narrative essay. Write it correctly to reflect your final comments. It must include the following three main components:
A restated summary of the primary details and ideas you discussed.
An emphasis on the lessons you learned from a specific situation.
Food for thought to leave your readers thinking.
Narrative Essay Format
You are abreast of your narrative's outline and all the details. Now, let's focus on how to format a narrative essay. Besides the traditional five parts in a narrative assignment, it includes the other five crucial elements we shall discuss here because we covered them.
These five components are plot, characters, setting, conflict, and theme. Let's examine them in more detail below.
Plot. Your assignment's plot is the incident you share with your audience in the story. This element focuses on the sequence of events that happened in your narrative.
Setting. The setting is the location the events or experiences you are discussing happened. This venue can be your home, school, village, public place, or any other place during the event.
Characters. Your story's characters are the people who participated in the events you are reliving in the story. You should mention all the persons and clarify their significance as main or minor characters.
Conflict. A story's conflict is the challenge/s your characters encounter during the incident. Any tense moment in your plot is considered a conflict requiring a solution.
Theme. Lastly, your story must have a theme elaborating its overall goal and why you chose to write about it.
Narrative Essay Writing Tips: Do's and Don'ts
Many components boost your ease of mastering how to make a narrative essay. One such component is practical tips on how to write a narrative essay. This section contains valuable and actionable narrative essay tips to sharpen your writing.
Keep it clear. Keep your narrative short and clear to make it easy to read and understand. Avoid all complex syntax and phrases by sticking to simple, straightforward language.
Don't overuse details. While you need sufficient details to pass across your points, use your details sparingly to avoid wordiness and redundancy.
Use dynamic words. Use dynamic words to make your story more engaging. Minimize the passive voice when possible and necessary.
The Do's
Here are the things to do in your essay.
Draft your story in the first-person or third-person viewpoint, depending on whether you're narrating your experience or an account you heard.
Start your paper on a hooking note to grab and retain your readers' attention.
Be crystal clear on what you want to tell before drafting it.
Follow an appropriate narrative format.
Spice up your assignment with some conflict.
Make your story appealing to all of your readers' five senses by showing them what your story's characters saw, smelled, heard, felt, and tasted.
Use various descriptive techniques, such as power words and transitions.
The Don'ts
Don't do the following in your narrative essay.
Write in the second-person viewpoint.
Create fictional stories.
Utilize overly formal language, arguments, or slang.
Tell stories instead of showing them.
Some More Features of the Narrative Essay
A narrative essay describes people. In addition, it features their conversations and recounts their experiences to provide lessons for readers. Moreover, it is similar to a story but differs in weaving around a motive. Before episodes of the essay, a motive is given. And readers will become aware of that single theme and central idea as soon as they go through the essay.
In addition, the main purpose of the essay is to provide information about life experiences and the lessons learned from these experiences. Before reading some examples of essay writing, pay attention. To quickly write an engaging narrative essay, follow these tips.
Example 1: New Directions
"Annie, over six feet tall, with big bones, decided that she would not go to work around the house and leave her precious babies in the care of someone else. There was no way to get hired at the city's cotton mill or sawmill, but there might have been a way to get two factories to work for her. In her words: "I looked up the road I was on and back where I was coming, and as I was not satisfied, I decided to get off the road and make a new path." She told herself that she was not a whimsical cook, but she could "mix food well enough to scare away the hungry and keep the man from starving."
The author told how the girl looked and how she behaved. She also wrote direct dialogue to show that this is a narrative.
Example 2: Saturday Evening Post
"When I broke in that day, she was at a conference with an executive from Curtis Publishing Company. She introduced me. He bent low to the waist and shook my hand. He asked if it was true, as my mother told him, that I wanted to conquer the world of business? My mother replied that I was endowed with a rare determination to make something of myself.
"That's right," I whispered. "But do you have a character, a spirit that never says what it takes to succeed in business?" My mom said I certainly did.
This material is from the narrative essay of the famous Russell Baker Saturday Evening Post. The author fully described his mother's efforts in her dialogue. Both character and dialogue are very clear.
Example 3: Daughter Only
"One day a few years ago, when I was just starting my writing career, I was asked to write my own contributor's note for an anthology I was a part of; I wrote, "I am the only daughter in a family of six sons. It explains everything". "Well, I've been thinking about it since then, and yes, it explains a lot to me, but for the reader's sake, I had to write: "I am the only daughter in a Mexican family of six sons." Or even, "I'm the only daughter of a Mexican father and a Mexican-American mother." Or: "I am the only daughter in a working-class family of nine." It all had to do with who I am today."
In this essay, the author describes the daughter and how she looks and behaves. Follow the tips above when writing a good and compelling story.
Need Help Writing a Narrative Essay?
So far, we have shared everything you need to master this essay. You know what it takes to tell a compelling story that unleashes your creative genius. But do you still feel you need more customized help?
Perhaps you understand these principles but still face challenges that disrupt your concentration on writing a killer narrative. What way forward out of such situations? Don't worry if you are in such disruptive circumstances because you can use our custom writing services to bridge the gap.
Our team is on standby to assist you in beating all deadlines. We help students overcome every obstacle standing between them and timely, excellent academic assignments. You can always reach us whenever you hit a snag.
Trust our professional writers to assist you at all academic levels, from high school to postgraduate. Moreover, we offer writing solutions across all subjects.
Don't remain behind your classmates when we can accelerate you to get ahead of the park! Irrespective of your challenges, you can order an essay on sale today using our secure online portal.
FAQ
Do you still need more knowledge about writing a narrative paper? Here are common questions, plus their answers, to promote your learning.
What is the purpose of a narrative essay?
It tests a student's ability to tell a story academically and logically.
How do you write a narrative essay?
You write this essay by paying attention to its prompt and drafting it in the first person unless otherwise required.
How do you start a narrative essay?
You begin your story on a compelling and hooking note that gives your readers the best first impression.
How to write a good narrative essay?
You write a great essay following all the principles discussed in this article.
How many paragraphs are in a narrative essay?
Typically, it contains five paragraphs, including an intro, three body paragraphs, and a concluding section.
How to write an outline for a narrative essay?
Your essay's outline should include an intro, three body paragraphs, and a conclusion.