How to Write a Narrative Essay Step By Step
Sometimes, it is difficult to understand how to write a narrative essay right. Most often, an essay is usually confused with a descriptive one. But this article will tell you what writing a narrative essay is. In addition, it will guide you through all the necessary steps and help you know how to write a narrative essay.
What is a Narrative Essay
In this essay, all incidents, events and characters revolve around a single motif presented in the narrative. Also, a narrative essay is like a simple five-paragraph essay. And it is so because it has the same format. In addition, it differs only in that it is a narrative containing characters, incidents, and dialogue. In addition, the main purpose of a narrative essay is to tell the reader about the events. Also, talk about interactions. And the experience that happened to the author during a certain period.
Essential Elements of a Narrative Essay
There are important elements that distinguish a narrative essay from other essays. A narrative essay consists of three elements: character, theme, and dialogue. And even if the essay is autobiographical, pay attention. The person writing the essay is a character that involves some other characters who act, act and act like all the other characters featured in the stories and novels.
Dialogue is used to record conversations between characters. Also, in narrative writing, dialogue is the third important element, without which the characters lose their value and liveliness. In addition, a narrative essay is centred on a plot that is told in enough detail to reach a climax.
The following are some other important elements of a narrative essay: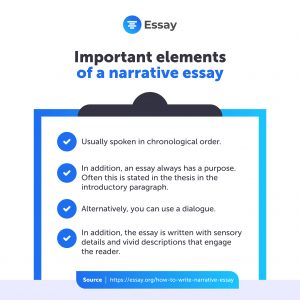 The narrative essay uses tools such as flashbacks, flash-forwards, and transitions. These tools often lead to a climax. In addition, the plot is at the center of the story. However, when creating a narrative, authors must define their purpose. In addition, they must consider their audience, establish their point of view, use dialogue, and organize the story. A narrative essay is usually arranged in chronological order.
Also, in a narrative essay, you are telling a story. And often, it comes down to personal experience. However, you also make your point. Thus, the goal is to tell an entertaining story and explain the importance of the experience.
Some Features of the Narrative Essay
A narrative essay describes people. In addition, it features their conversations and recounts their experiences to provide lessons for readers. Moreover, it is similar to a story but differs in weaving around a motive. Before episodes of the essay, a motive is given. And readers will become aware of that single theme and central idea as soon as they go through the essay.
In addition, the main purpose of the essay is to provide information about life experiences and the lessons learned from these experiences. Before reading some examples of essay writing, pay attention. To quickly write an engaging narrative essay, follow these tips.
Example 1: New Directions
"Annie, over six feet tall, with big bones, decided that she would not go to work around the house and leave her precious babies in the care of someone else. There was no way to get hired at the city's cotton mill or sawmill, but there might have been a way to get two factories to work for her. In her words: "I looked up the road I was on and back where I was coming, and as I was not satisfied, I decided to get off the road and make a new path." She told herself that she was not a whimsical cook, but she could "mix food well enough to scare away the hungry and keep the man from starving."
The author told how the girl looked and how she behaved. She also wrote direct dialogue to show that this is a narrative.
Example 2: Saturday Evening Post
"When I broke in that day, she was at a conference with an executive from Curtis Publishing Company. She introduced me. He bent low to the waist and shook my hand. He asked if it was true, as my mother told him, that I wanted to conquer the world of business? My mother replied that I was endowed with a rare determination to make something of myself.
"That's right," I whispered. "But do you have a character, a spirit that never says what it takes to succeed in business?" My mom said I certainly did.
This material is from the narrative essay of the famous Russell Baker Saturday Evening Post. The author fully described his mother's efforts in her dialogue. Both character and dialogue are very clear.
Example 3: Daughter Only
"One day a few years ago, when I was just starting my writing career, I was asked to write my own contributor's note for an anthology I was a part of; I wrote, "I am the only daughter in a family of six sons. It explains everything". "Well, I've been thinking about it since then, and yes, it explains a lot to me, but for the reader's sake, I had to write: "I am the only daughter in a Mexican family of six sons." Or even, "I'm the only daughter of a Mexican father and a Mexican-American mother." Or: "I am the only daughter in a working-class family of nine." It all had to do with who I am today."
In this essay, the author describes the daughter and how she looks and behaves. Follow the tips above when writing a good and compelling story.
How to Start a Narrative Essay
So, how to write a narrative essay step by step. Pay attention before your creative process begins. Learn more about the general requirements for this type of essay. Pick narrative essay topics and gather relevant information to use as a reference. Also, when preparing, think about what to write about. Consider what is required of you. Also, consider where to look for evidence.
Understand the writing process and how to start a narrative essay. This stage is the most time-consuming. However, it may be less if the following are taken into account:
Creation of structure and contour.
Also, providing information in the first person.
In addition, descriptions of characters and places.
What advice can you give yourself and others in writing a narrative essay?
1. Remember the brightest, most interesting event described in an essay. If it is interesting to you, you will be able to describe it interestingly.
2. Describe not so much the event as the attitude towards it.
3. From a series of events, choose only the important ones. Do not write about the obvious little things.
4. Remember that the climax is the main event. It should be described in more detail. Then the essay will be emotional.
5. So that the narration is not monotonous, you can include dialogue.
6. Although we are writing a narrative essay, remember that sentences are not the only narrative. Strive for variety.
Determine the logic of the text. The student must think logically, and designate cause-and-effect relationships in his work. A competent introduction should contain several sentences that describe existing opinions on the topic, problems, and judgments. You can also cite the statements of famous people, but it is better not to overdo it. The introduction should be meaningful and capacious.
Think over the thesis. They should not dwell on the problem in detail, because all the arguments and explanations will be given in the text. There may be several abstracts, depending on the issues chosen by the student.
How to End a Narrative Essay
After creating the first draft, carefully edit it. As you skim through your essay, you will find one, two, or more rough passages. Make sure you don't miss any important moment. Below are some tips for successful editing:
Do not start looking for mistakes immediately after writing an essay. Relax and only then look at it in a new way.
Turn large and complex sentences into simple ones. This makes them irresistible.
Avoid using terms with many meanings.
Find any repetitions of ideas or arguments and remove them.
Check all citations and formatting in general with the manual.
Paraphrase where it is difficult to understand the meaning.
Additionally, review the structure of the essay.
You can also order an essay writer from our company. Each specialist can write a good narrative essay according to all requirements. Place an order and free up time for more important things.