There is no college and high school student who would not be assigned to write an informative essay. While many think that writing this type of academic work is an easy task, in reality, it takes long hours of composing and editing to achieve an excellent result. That is why we have created this useful guide on how to write an informative essay for students who strive to get the best grades. In this article, we will dive deeply into the informative essay writing process so you can make your educational life so much easier!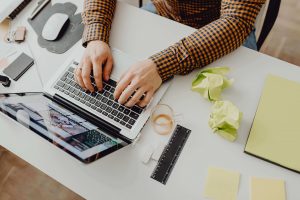 What is an Informative Essay?
If you wonder: "What is an informative essay?", here is the explanation. An informative essay is a piece of academic writing that informs the audience about a certain topic or phenomenon. In this type of essay, a student has to reveal the theme with little detail and particularities. The main difference that distinguishes an informative essay from other essays is the importance of building it only on cold facts. Here you have to provide listeners with statistics, graphics, and evidence so the information sounds strongly supported.
An informative essay should be based exceptionally on reliable and trustworthy sources. A student is not allowed to write any personal experience or personal thoughts. Thus, before getting started with writing an informative essay, it is recommended to conduct thorough research on the topic. All the definitions and terms should be explained and the content is supported with facts. Also, to bring more clarity to the topic you are discussing, including real examples and explain specific situations.
The Main Purpose of Informational Essay
As the name implies, the main purpose of an informative type of essay is to inform the reader about a certain subject. Suppose, readers know nothing about the theme of the discussion. So the goal will be achieved when the audience after reading your essay has a clear understanding of the topic.
Besides informing, an informative essay can also compare things, guide, and navigate readers. Its neutral manner should give a feeling that there is no personal point of view and that the information is trustworthy.
How to Plan an Informative Essay Writing
In order to achieve a first-class result in writing informative essays, you should spend a lot of time planning them. Since its structure should be coherent and logical, without preparation you won't be able to come up with a clear understanding of how to write it. So in this section, you can find the main planning steps that will cover your question: "How to start an informative essay?"
Choose Your Essay Topic
The topic of an informative essay plays a crucial role. Depending on the theme you choose, it can be easier or more difficult for you to perform the paper-writing process. So start with the topics that are in the circle of your interest. Brainstorm the ideas that come to your mind. Then narrow down the choice by researching the topics. And also, pay attention to the sources: if there are enough credible sources, it will be way easier to compose a high-quality essay.
Informative Essay Topic Examples for College
Here are the topic ideas you might like.
The world economy: how can one country influence the economy of another one?
The history of veganism.
What does a modern business look like?
The importance of achieving a higher education for today's world.
How to set up a company?
Impact of Covid-19 on divorce rates.
Cryptocurrency business: pros and cons.
Most popular social media platforms to promote your product overview.
How were the pyramids built?
How do sellers trigger customers to buy?
Will artificial intelligence replace humanity?
Big Ban Theory definition.
Is there life on other planets?
Do all illnesses come from psychosomatic factors?
Is obesity treated badly in society?
How Long Should Your Informative Essay Be
The length of the essay should be measured by the completeness of the disclosure of the topic. Usually, it takes four or five paragraphs for a standard essay. Unless you are provided special instructions on how long the essay should be, you can add more information to your essay body.
Create an Informative Essay Outline
An informative essay structure includes the following parts:
An introduction for an informative essay is the place to introduce the topic to the audience. Here you write your thesis statement and provide a background on the theme.
Body paragraphs. This is the main part of your essay that covers all the information, explanation, facts, and other details that completely reveal the topic.
In the final part, you should sum up the given information and refer to your thesis statement.
Conduct an Informational Research
Before you ask yourself a question: "How to write an informative essay introduction", you should conduct research on the information you are to present to the readers. At that stage, you have to gather information from credible sources. Choose the ones that are books, scholarly, scientific articles, or books.
How to Start an Informative Essay?
If you are looking for ways to start an informative essay, you have come to the right place. The beginning is always the hardest part of writing informative essay. To put it simply, make sure to include in your introduction part the following components.
Informative Essay Hook
If you want to keep your audience engaged and interested from the start, you have to hook them right at the beginning. To do that, you can use some unbelievable facts or mind-blowing statistics so the readers want to go further. However, it should not be way overwhelming or supernatural. The hook should be real and fascinating.
Strong Thesis Statement
The main focus of the introduction paragraph for an informative essay should be placed on providing a solid thesis statement. Your thesis is the central idea of the paper, so it should be fundamental and concise. Put it right after the hook or at the end of the introduction part. Your thesis statement should also explain why your topic is important and relevant to modern discoveries.
Add Connecting Sentences
By building a smooth transition, you can increase the readability of your essay. Usually, connecting sentences are those that broaden your thesis statement. They are used with what, whom, and why questions that can broaden the topic and tune readers to further informational journeys.
Informative Essay Body Paragraph
The main part of every informative essay is its body. This is where you as a writer should show all your knowledge of how you write informatively and cover every little detail. Typically, the body paragraphs are three paragraphs. Each should contain only one argument and an explanation for it. However, the informative essay format allows writers to add more paragraphs unless teachers don't set limits for the essay structure.
When composing the main part of your informative essay, follow our approach on how to create every paragraph so it contains all the necessary information.
A Claim
Every body paragraph should have a claim – a sentence that opens the paragraph and gives the fundamental idea of what it will be written about. So you might wonder: "How to write a good informative essay statement?" First of all, it should be deep and broad. It should represent one fact or point of view that you will go further with. However, don't try to make it sound very complicated. The main goal is that everything was clear for your readers.
A Supporting Evidence
Suppose you provided a strong statement at the beginning of one of your body paragraphs. But why should readers listen to that? And here comes supporting evidence. You can use statistics from surveys, quotes, facts, discoveries, graphics, or any other type of evidence that will backup your claim. At this stage, it is important to refer only to credible sources and reliable authors.
Explanation
You did good work and added a lot of data into your body paragraph but what should readers do with this information? In order to process it, you have to explain it to them. Link your evidence with your claim and write why it is essential for your topic.
Ending Sentence
Every body paragraph should have a concluding sentence that would sum up the information. It will also serve as a transition for the next part of your informative essay.
Informative Essay Conclusion
A task: "How to make an informative essay conclusion?" is not quite easy to perform. In this part, there is no problem you have to solve or argument you have to support. That is why many students wonder how to write an informative essay conclusion. Go on and you will find what makes a good informative essay conclusion.
Referring to a Personal Statement
It is obvious that a thesis statement should not only be mentioned at the beginning of the essay. It should have a logical explanation in the final part. So in your conclusion make sure to restate your personal statement. Surely, you don't have to copy and paste it but rephrase it.
Commenting on the Body Paragraphs
In your informative essay conclusion, you should also cover the body paragraphs. Mention the most essential points or ideas but don't get into detail.
Making Readers Think
Even though an informative essay is more about providing the audience with information, it should also induce readers to think. Leave a clincher at the end of your paper that can be a provoking statement, a question, or an idea to dig in. It will also increase your chances to stand out from other essays.
Emphasizing the Importance
If you don't highlight why it is important to read your informative essay, readers will perceive it as a piece of information. But when you point out that your work has great value in it, the audience will be more attentive.
Advanced Tips for Writing Informative Essays
If you still wonder how to begin an informative essay or how long an informative essay is, this section will be helpful for you. We have gathered the latest recommendations that will make your informative essay writing process go smoother and easier. Find our list of tips below.
Prepare before writing. A typical mistake most students make is getting immediately into writing: looking for informative essay starters, writing the introduction, and doing everything in a chaotic way. First, you have to do research on your topic. Dedicate time to learning and reading the examples.
Do not over-explain. Even though informative essays should provide the information in a clear way, you don't have to repeat the explanation several times. One comprehensive answer will be enough to cover one idea.
Always create a structure. Divide information for the introduction, informative essay body paragraph, and conclusion. Learn what every part of the essay should cover so you can plan ahead your steps.
Stick to the requirements. Surely, there is a traditional way to write an informative essay. But it is more important to follow the requirements of your educational institution. Always contact your teacher in case you have any doubts so any kind of misconception could not ruin your final result.
Don't spare time for proofreading and editing. Thus, you can avoid many mistakes and take a fresh look at your final draft.
Need Help with Informative Essay Writing?
What do you think about the idea of entrusting your informative essay writing into the hands of real professionals? We as experienced academic essay writers can back you up! When you buy essay from us, we guarantee you:
The best quality
In-time delivery
Affordable prices
24/7 customer support
Unlimited revisions
Additional services
Direct communication with the writer
Bonuses and many other features.
We can perform any kind of "write my essay for me" task as our team consists of writers who are passionate about helping students achieve the highest results.
It will not take you more than 10 minutes to submit an order for writing an informational essay. As soon as you get acquainted with the reviews and examples of our works, you can go to the ordering form and secure yourself the best result. So don't hesitate to reach out to us with all your questions and requests – we will handle them right away!
FAQ
How many paragraphs are in an informative essay?
A typical informative essay contains five paragraphs: an introduction, three body paragraphs, and a conclusion. If you have more ideas to add to your paper, you can always make your body longer by adding more paragraphs to it.
What is an informative essay structure?
An informative essay structure is a roadmap that draws the main elements of this piece of writing. It is essential to plan ahead the structure of your essay as it will help you to keep the information organized.
How to write an introduction for an informative essay?
Follow these steps to writing an informative essay introduction: come up with a hook to make your audience interested in your writing; then create a strong personal statement, and don't forget about adding connecting sentences.
How do you write an informative essay?
First, answer a question: "How to plan an informative essay?" since every writing process should start with planning and researching. Then divide this activity into small steps, create the outline, and organize the information.